Version Française ci-dessous
News from the Guardians of the Ocean
Our education programme is still active on Nosy Be, despite the difficulties encountered with the COVID-19 crisis: particularly school closures and the lack of means for parents to send their children. Thanks to your donations in November 2021, we were able to help keep Madirokely's school in operation, as it remains of utmost importance to us that the village where we operate from can provide access to education for its children.
We welcome Richyna Volarinina Soariziky, the new education officer of our local partner MADA Megafauna. Richyna is a native of Nosy Be, she has worked as a facilitator for the GreeN'Kool association on the topic of recycling, she is a rapper and has won the Ranomasy 2019 festival competition.
She is currently supported by Elise Rouyet, co-manager of partner operator Les Baleines Rand'eau. Elise is firmly rooted in Nosy Be, having lived on the island for more than 10 years, and is actively involved in community life by taking part in awareness-raising and animation projects with young people.
Funding provided by the Madagascar Whale Shark Project should enable the hiring of a second education officer in the coming months to expand and consolidate the team! This year, about ten classes are concerned by our education programme. A lot of work has been done over the last few months to adapt the programme to the realities of Nosy Be, and about ten themes are covered, from the marine ecosystem to environmental protection.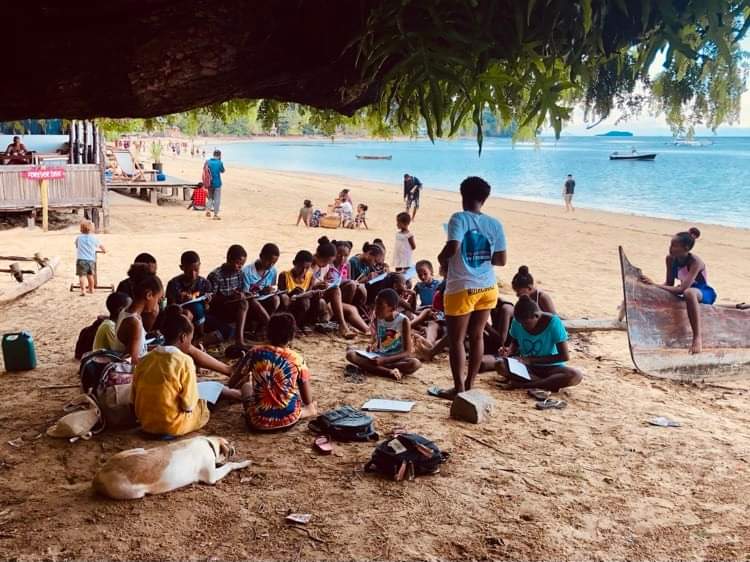 Les Gardiens de l'Océan toujours présents
Notre programme de sensibilisation est toujours en activité sur la petite île de Nosy Be, malgré les difficultés rencontrées avec la crise du COVID-19 : en particulier la fermeture des établissements scolaires et le manque de moyens des parents pour envoyer leurs enfants à l'école. Grâce à vos dons en Novembre 2021, nous avons pu contribuer à maintenir l'école de Madirokely en activité, le village où nous sommes habituellement basés, afin que l'accès à l'éducation reste possible pour les enfants du village.
Nous souhaitons la bienvenue à Richyna Volarinina Soariziky, la nouvelle animatrice de notre partenaire local MADA Megafauna. Richyna est native de Nosy Be, elle a travaillé en tant qu'animatrice pour l'association GreeN'Kool sur les ateliers de recyclage, elle est slameuse et a gagné le concours du festival Ranomasy 2019. Elle est épaulée par Elise Rouyet, co-gérante des Baleines Rand'eau. Elise a un vrai ancrage à Nosy Be, habitante de l'île depuis plus de 10 ans, elle participe activement à la vie de la communauté en participant à des projets de sensibilisation et d'animation auprès des jeunes.
Un financement apporté par le Madagascar Whale Shark Project va permettre l'embauche d'un ou une nouvelle animateur.trice dans les mois à venir afin d'agrandir et consolider l'équipe ! Cette année, une dizaine de classes sont concernées par notre programme d'éducation. Celui-ci a fait l'objet d'un gros travail durant les derniers mois afin de l'adapter aux réalités de Nosy Be, une dizaine de thèmes sont abordés, de l'écosystème marin à la protection de l'environnement.